Small Caravan Hire
Small caravans for hire can and do make a perfect holiday for many wanting to make the most of the glorious UK country side and fabulous coast line. But what can you expect from the average micro caravan when hiring one for the weekend or longer? We will investigate and find out!
First on our list is Dub Box Adventures, camper and caravan hire in Herefordshire. These fabulous 2 or 4 berth campers come packed with sink, pump action tap, 12litre water and waste tanks, 12v retro fridge, iPod/ android stereo, leisure battery, gas hob, a seating area easily able to accommodate four adults that then turns into a large double bed. If you hire the 4 berth caravan the roof pops up for a cool sleeping area for the kids. There is also a kitchenette that holds funky plates, cups and cooking accessories and aids, glasses, saucepans, road maps, board games, torch and even a cool bag for you to use. In fact Dub Box Adventures state if you can think of anything they have forgotten, let them know so they can add it to their supplies! Optional extras also included an amazing bell tent awning, dutch oven, spit roast set, loo and loo tent and bedding. Altogether the setup is pretty fabulous and mixed together with a price tag starting at £35 per night… what are you waiting for?
Secondly, we have Diddyvans tear drop trailers, very cute, teeny trailers, the interior is given over completely to the bed/seating area with small storage cupboard in the cabin and the back hatch lifts to reveal gas hob, and kettle, pillow and bed linen and water container is also included in the price. Prices start from £45 per night but you do need to organise your own insurance… ideal for a compact weekend away.
Retro trailer camping hire company also has a teardrop available but this time in a sleek aluminium style, with red accessories it looks very sweet and is recommended for corporate effects and even Santa's grotto! Based in Norwich, the team will tow the teardrop to a local campsite for you for a small fee so you don't even have to tow it! Comes with event shelter, gas hob and gas, cutlery and crockery for four people, 12v toolbox, water container, hook up, leisure battery, radio, cooking equipment, windbreak, bistro table and chairs, torch and solar lights, portal, hitch and wheel lock. Prices start from £170 for the weekend but do not include insurance…apparently the perfect antidote to nights spent in a soggy tent with rain dripping on your sleeping bag!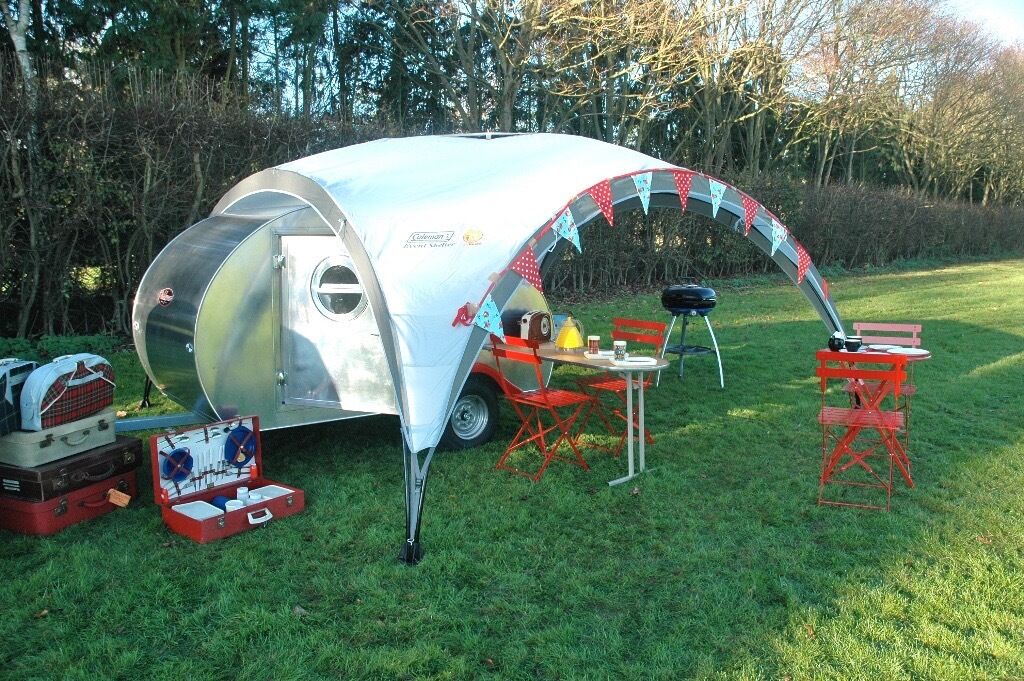 Lastly we have Lucy Jayne Vintage caravans, based in West Sussex they have unique vintage caravans for hire, beautifully restored, with amazing interiors, there are a few caravans to choose from including Lady Evie, a 1967 Yvonne Mostard Classic Caravan. At only 10ft and 500kg she is an amazing compact 4 berth retro tourer. With a double bench/dinette end, roomy kitchen unit, wardrobe and front day bench with hammock above. The cupboards are all in excellent original condition and kitchen unit has a original sink, hob and pullout drawer and chopping board. Evie is available to hire all year round and is small enough to be used at certain indoor venues. Website prices start from £265 for a two night weekend hire.